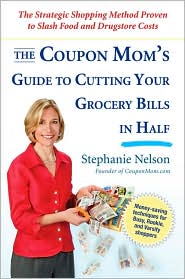 I've become a pretty decent coupon shopper over the past year and have saved hundreds of $$. Yippee! However, I continue to ask this burning question, "When it is cheaper to shop at places like Sam's Club, Costco or BJ's Wholesale Club?" Maybe you've wondered the same thing. Luckily for all of us, Stephanie Nelson, in her very informative book
The Coupon Mom's Guide to Cutting Your Grocery Bills in Half: The Strategic Shopping Method Proven to Slash Food and Drugstore Costs
, gives a thorough list of items that are consistently less expensive at club stores. (pages 110-114) I thought you might like to know too.
Dairy Products:
eggs, butter, cream, half and half, individually wrapped cheese sticks, egg substitute, both block and grated cheese, milk and gourmet cheese (this last one is usually 1/2 the price of a regular super market). Mrs. Nelson recommends buying the less expensive block cheese, grating it yourself, putting it in zip-lock freezer bags with 1 TB of flour and shaking it around -- to keep the cheese from sticking together -- and storing it in your freezer. Also, milk is often a loss-leader at your grocery store and goes on sale about every other week. So, you can probably buy milk a little bit cheaper, most of the month, at your local grocery store.
Fresh Produce:
Prices are almost always better at the club stores, but the amounts are huge. Decide if this one works for you.
Baking Ingredients:
flour, sugar, chocolate chips, spices, yeast, real vanilla, evaporated milk, vegetable oil and nuts. The club cost on all of these items is about 60% less than at the regular grocery store. Again, large quantities, but these items all store nicely.
Fresh and Frozen Meat, Chicken and Fish:
According to Stephanie Nelson, "Not only is the club price lower, but the grade is also higher." Well. Who knew? Better product for a cheaper price! You can re-wrap the meats in smaller portions and freeze them if you need to.
Bakery and Deli:
Club store sheet cakes give you about 50% more cake for the same price of a grocery store cake. The same is true for "bake it yourself" pizzas, pies, muffins, pastries and bagels.
Plastic Bags, Garbage Bags, Foils, and Plastic Wraps:
Coupon Mom says club stores sell Zip-Lock baggies cheaper than even the dollar stores! Again, club stores sell BIG amounts of these household items. My girls will remember the LARGE roll of clear wrap I purchased at Sam's Club when they still lived at home. In fact, I believe my 14 year old son wasn't even born when I bought it. I just replaced it at Christmas. That is a BIG roll and some serious savings!
Batteries:
Enough said. Good quality batteries should last from 3 - 5 years just sitting in a dark, room-temperature place like a drawer. No need to keep them in the freezer.
Frozen Juice, Fruits and Vegetables:
Often these are 1/2 the price of grocery store items.
Household and Paper Supplies:
Here she recommends always buying the club store brand. If you insist on a particular name brand, then you are better off watching for sales and using coupons at your regular grocery store. Club stores do not take coupons.
Armed with this valuable information, you can see that a monthly (or quarterly) trip to a club store is well worth your time and money! I would highly recommend reading this book, or you can log onto the free website,
http://www.couponmom.com/
and figure out her system on your own. I'll be writing more about this book in the future -- Stephanie Nelson is one smart (and frugal) cookie!